Interior doors with character
Unique interior doors add character to your interior -- certainly minimalist interior doors that create a special aura thanks to their clean lines. If you are in search of interior doors that match your home, be sure to take a look Aliplast's IDA collection. That's added value all around.
The perfect interior doors are called IDA
Glass interior doors create a home bathed in light with an augmented sense space. Do you want to give your home a unique touch? Then opt for IDA's minimalist aluminium doors with glass.
IDA is short for 'Interior Doors Aluminium', Aliplast's elegant collection of aluminium interior doors and walls, typified by a sleek steel look and durable character. They are also very maintenance-friendly and 100% sustainable thanks to the recyclable aluminium. This keeps your interior doors in top condition while you do your bit for the environment.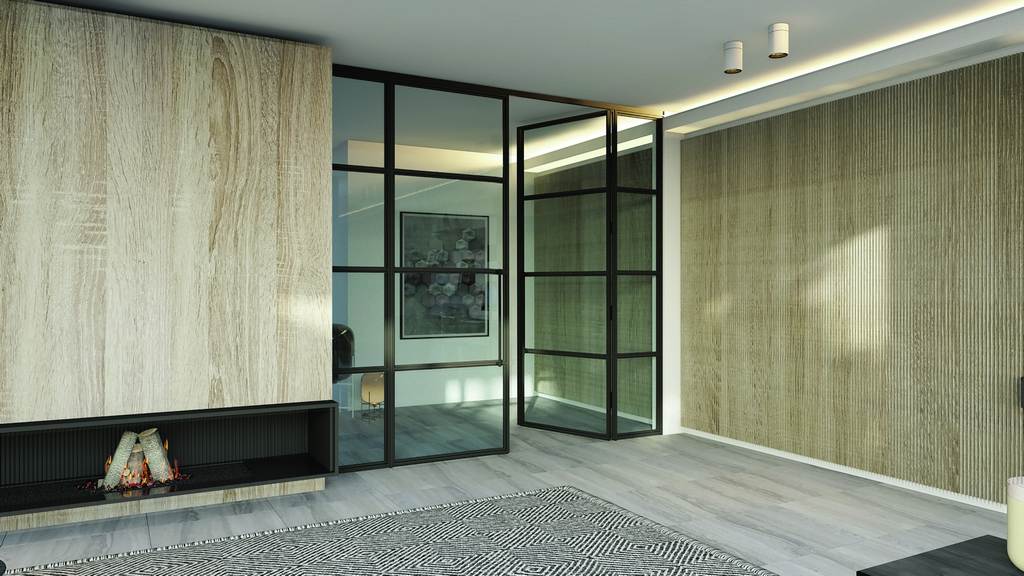 Cheaper than steel doors
Aluminium interior doors look the same as steel doors, but they are far cheaper. As aluminium is a lighter material than steel, they are also much easier to install, also easier to open, of course, as children in particular can open these lightweight doors more easily than heavy steel doors.
Types of internal doors
When it comes to the design, you can choose between single or double internal doors, folding or pivot doors, sliding doors and interior walls. You can also determine the partitioning yourself: no partitioning or (a)symmetrical partitioning. With IDA's timeless, highly flexible interior doors, you can create a totally new atmosphere with minimal modifications. You determine the look of your interior.
A stylish room divider instead of interior doors
Suppose you want to separate two rooms without sacrificing light or openness. An aluminium wall with glass is the solution: Ideal between hallway and living room, kitchen and dining area or between bedroom and bathroom. A small kitchen seems a lot bigger instantly when you have a view of a larger and brighter living room. If you still want some privacy, as in your bathroom, for example, you can fill your IDA window with frosted or sandblasted glass.
Endless play with colours for your interior doors
Better still: IDA interior doors also bring plenty of colour into your life, especially if you choose coloured glass. The possibilities are endless when it comes to the colour of the profiles too. Aluminium interior doors do not always have to be black.
In a Scandinavian interior, white aluminium interior doors look pure and fresh. Thanks to the different colours, you are bound to find the right IDA door for your interior. If your room has wood accents, for instance, try a copper or bronze colour for a nice creative whole and sheer enjoyment.