Aluminium doors: carefree enjoyment
Those who want optimal quality on top of a strong score in terms of design, safety, insulation and durability should opt for aluminium doors: Ideal for making the perfect first impression and for decades of carefree enjoyment. Aluminium doors open up a world of possibilities. Find out all about it here.
The handsome looks of aluminium doors
If you take a good look around your neighbourhood, you will notice a lot of aluminium doors. This makes sense because they have a lot of particularly positive features. Aluminium as a material combines light weight, low maintenance and a long lifespan with excellent insulation properties and endless aesthetic possibilities. Your home or building has a unique look, so your door profiles should contribute to it. Rural, modern, minimalist, steel look, striking colours, etc… -- you are bound to find aluminium doors to suit your home. Customization is the standard.
Aliplast aluminium door range
At Aliplast, we have aluminium doors in different designs (available also in XXL version) which constitute the starting point for your choice: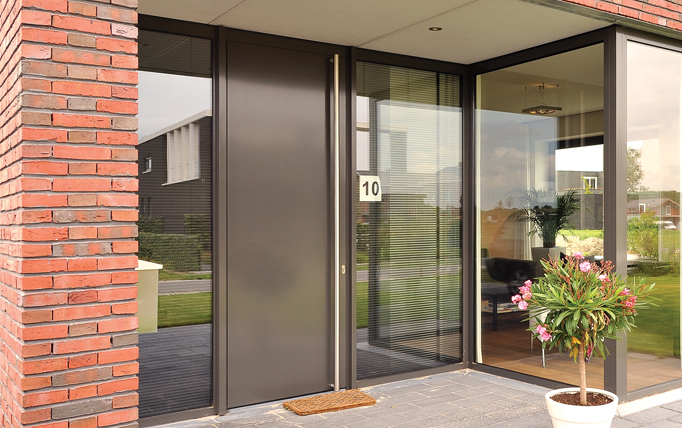 Door where the opening sash lies on the frame.
Modern solution where the opening sash is in line with the door frame. There is therefore no level difference on the inside nor on the outside.
Aluminium XL Magnitude Door
An architectural door where the decorative panel is on top of the sash and everything looks very sleek. The magnetic system ensures that your door does not pinch when the sun shines on it.
Aluminium Folding or Pivot Door
Unique architectural pivot door where the invisible hinges integrated in floor and ceiling ensure that it rotates around its vertical axis.
Burglar-resistant aluminium door
Another important consideration when you are about to order new doors: don't forget security. Without good burglar-proof joinery, an electronic alarm system makes no sense. Alipast aluminium doors are equipped with burglar-proof features.
There is the multi-point lock, for instance. Traditional front doors have only one locking point at the level of the door handle. The lock can be broken open if sufficient force is applied. This issue can be addressed more securely: A multi-point lock has 3 or 5 or 7 locking points that anchor the door leaf in the door frame. They are distributed along the entire length of the door and are opened with a key.
Automated doors open with a keypad, mobile phone or finger scan. These automatic doors are becoming increasingly popular. A multi-point lock on aluminium doors prevents breaking and entering. Another thing you can do: protect the standard hinge on aluminium doors against burglary by reinforcing the hinges with anti-lift security or anti-lift claws. This will keep the door in place if the hinges are forced.
Aluminium interior doors
In addition to beautiful and secure aluminium doors adorning the exterior facade, aluminium doors for indoors are also highly recommended -- as a handsome interior element even, especially if you take a look at the Aliplast IDA collection: A range of minimalist aluminium interior doors that make an interior full of character thanks to their clean lines.
Whatever your requirements, aluminium doors will fit them to perfection.
Free quote for aluminium doors?